As different as the moll functional furniture may be, they all have one thing in common: the claim to set a benchmark in at least one of the categories function, design or quality. This aspiration explains why the brand of moll today represents first-class, durable workmanship, consistent "Made in Germany" and the characteristic corporate culture of an owner-managed company with a clear idea in more than 50 countries
since more than 95 years.
Responsible for the moll quality: Martin Moll.
At first glance, it is easy to tell the story of moll, which began three generations ago in Gruibingen in the Swabian Alb and developed over the decades into a worldwide success story: the path from a small, family-run joinery to a globally renowned furniture manufacturer. At second glance, however, the history of moll becomes really fascinating: if you realize what knowledge has been acquired over these years and how this has resulted in modern, high-quality desks, swivel chairs and filing systems that are full of details and clever ideas. Curious? Then turn the page. Or rather, take a seat.
Yours sincerely Martin Moll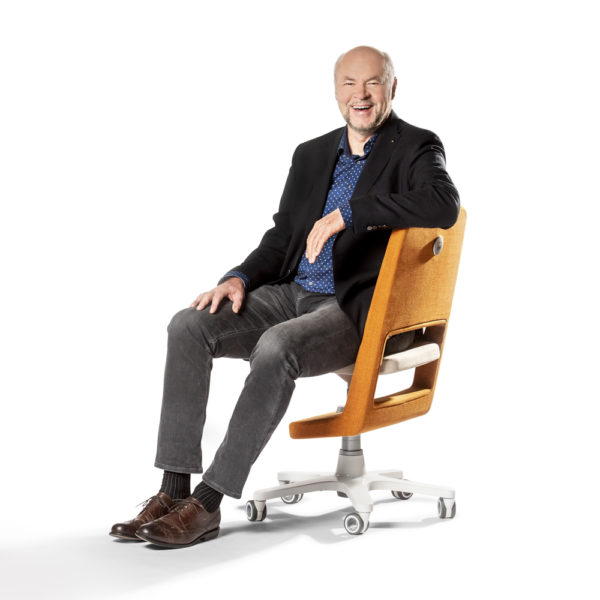 Over 95 years of craftsmanship in each workpiece.
Perhaps the greatest achievement of the Moll family in the almost 100 years of the company's history has not been a particular desk. Nor the invention of the first height adjustment for children's desks. It may not have been a particular chair either, although one could rightly have that opinion as well. The true masterpiece was probably something absolutely different: managing to ensure that, even after more than 95 years, craftsmanship counts for more than the large number of pieces produced at the moll manufactory. By the way, anyone who sits at a moll desk can feel that. And see it. And feel it.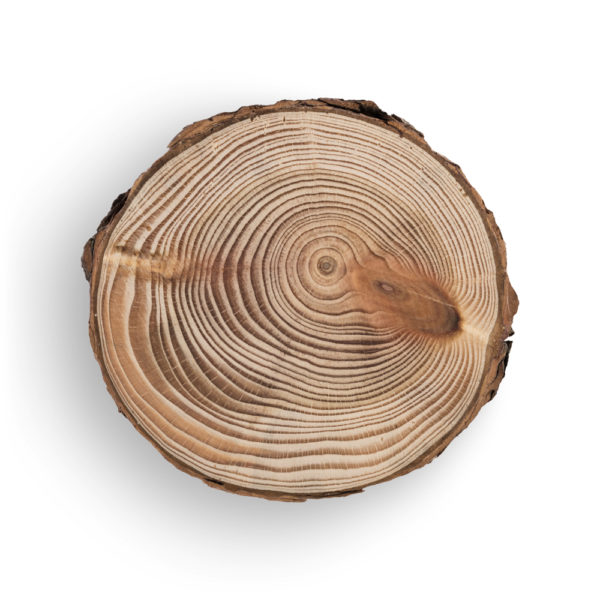 The moll idea is simple: furniture that can grow with the user.
In 1974, moll invented the world's first height-adjustable children's desk. This moment marked the beginning of a trend-setting idea: furniture which grows. As young people grow up, ergonomics, needs and preferences change. Perfect, when the furniture can be adapted accordingly. Not only in height. But also in depth, width, function, color, and configuration. We have consistently pursued this idea. The result: high-quality children's desks and swivel chairs with the potential to grow with the child from kindergarten to graduation and beyond. And on top of that, a design-oriented furniture line which sets worldwide standards in terms of form and function. This brings us to our very own definition of the term "sustainability": we would rather sell you a new piece of furniture that will last forever than keep selling you new furniture forever.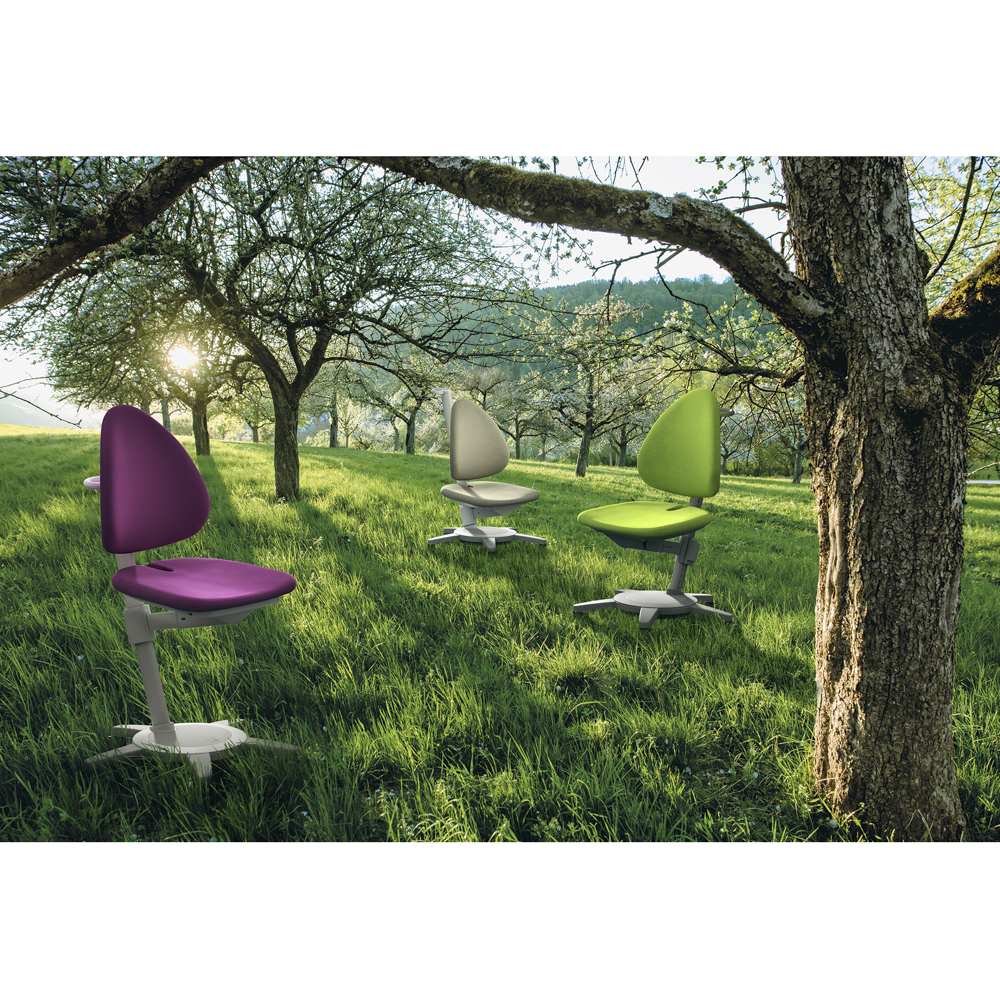 Each piece of furniture is a masterpiece. In big and small ways.
Functional furniture from moll has a certain reputation that extends far beyond function: we place the utmost importance on the material and workmanship quality of every single moll piece. Nothing else is possible in this regard. When designing furniture that will grow with you for years to come, there can be no compromise when it comes to quality. Thus, our commitment to quality begins well before the gates of our factory with our suppliers, from whom we only source high quality components and raw materials. And else? Craftsmanship, a sense of proportion, a high degree of precision and experience.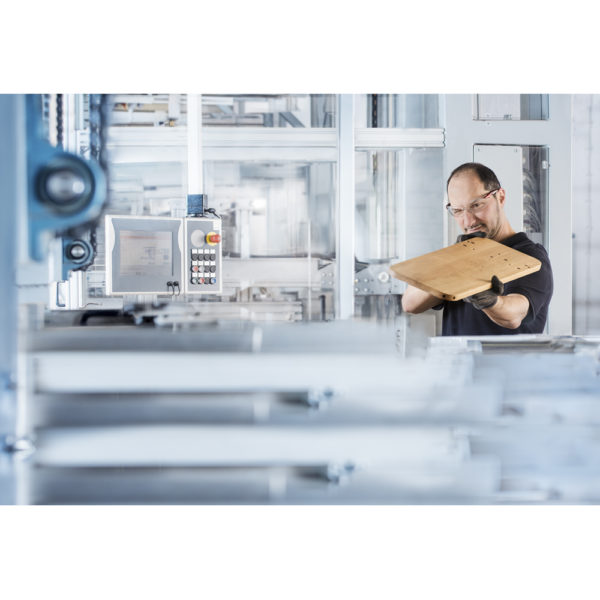 Core values: There's more to moll than meets the eye.
A cable duct that disappears invisibly inside the desk. A hidden box integrated into a swivel chair, which becomes a treasure safe in every child's room. A rope pull that can be used to incline a desktop within three pulls. Three small, invisible examples of an additional moll principle: We think of our furniture from the point of view of the people who use it. Whether tall or short. And we keep tinkering until we find just the one clever idea that turns a desk into a moll desk. Or a chair to a moll chair.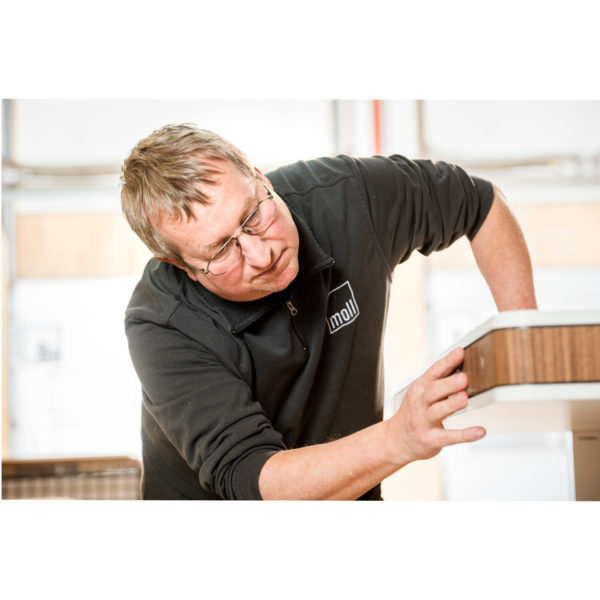 Our approach to design: You can recognize a moll without it being labeled.
We have talked about furniture that grows along with you. About a strict commitment to quality. We talked about small functional details. So far, not a word about design. Why should we? For example, just look at the chair here It is called S9. It looks like no other chair in the world. And so outstandingly good that we could never write it down here, as even we are simply at a loss for words.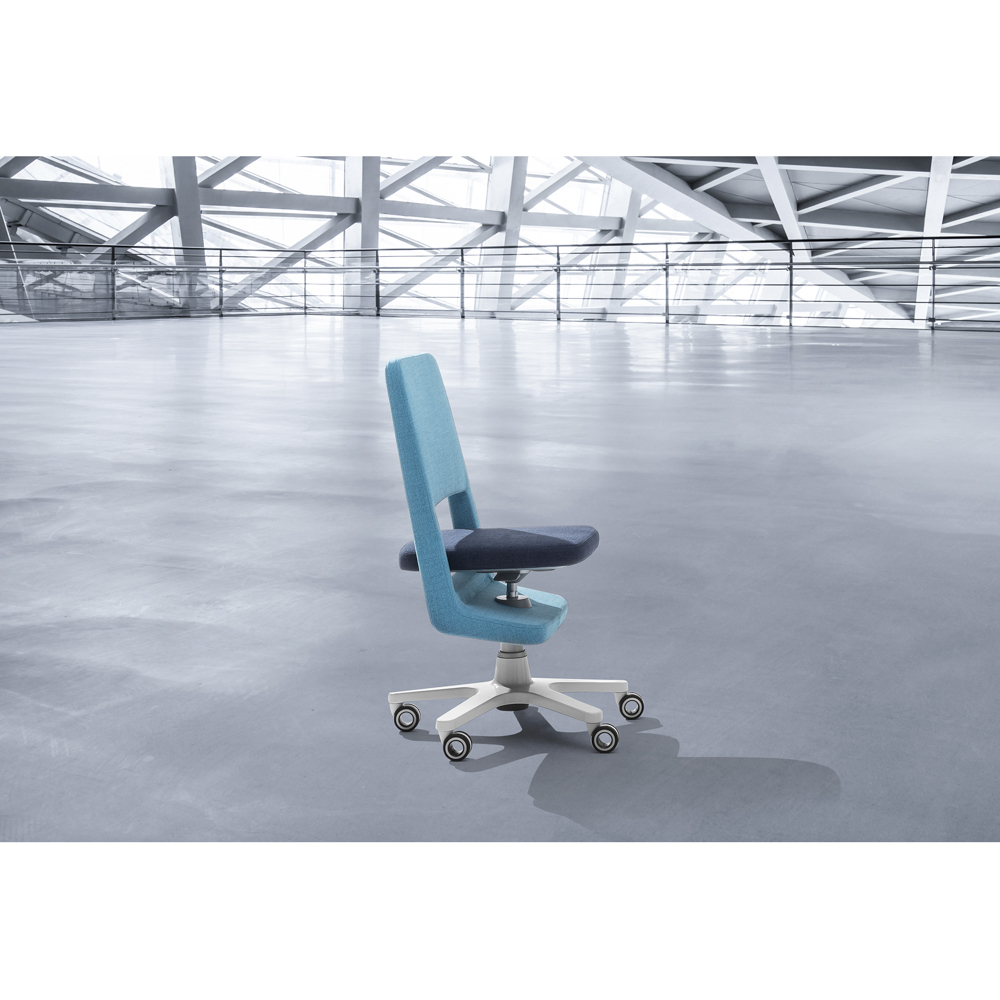 Manufactured in Gruibingen beloved all over the world. Also at your home.
With our dealer network in Germany and numerous sales partners on all continents, moll is represented worldwide. Use our store locator or contact us directly. We will then tell you where you can take a seat at a T7 or on an S9. And where the moll Champion can become a champion for your kids. We look forward to seeing you!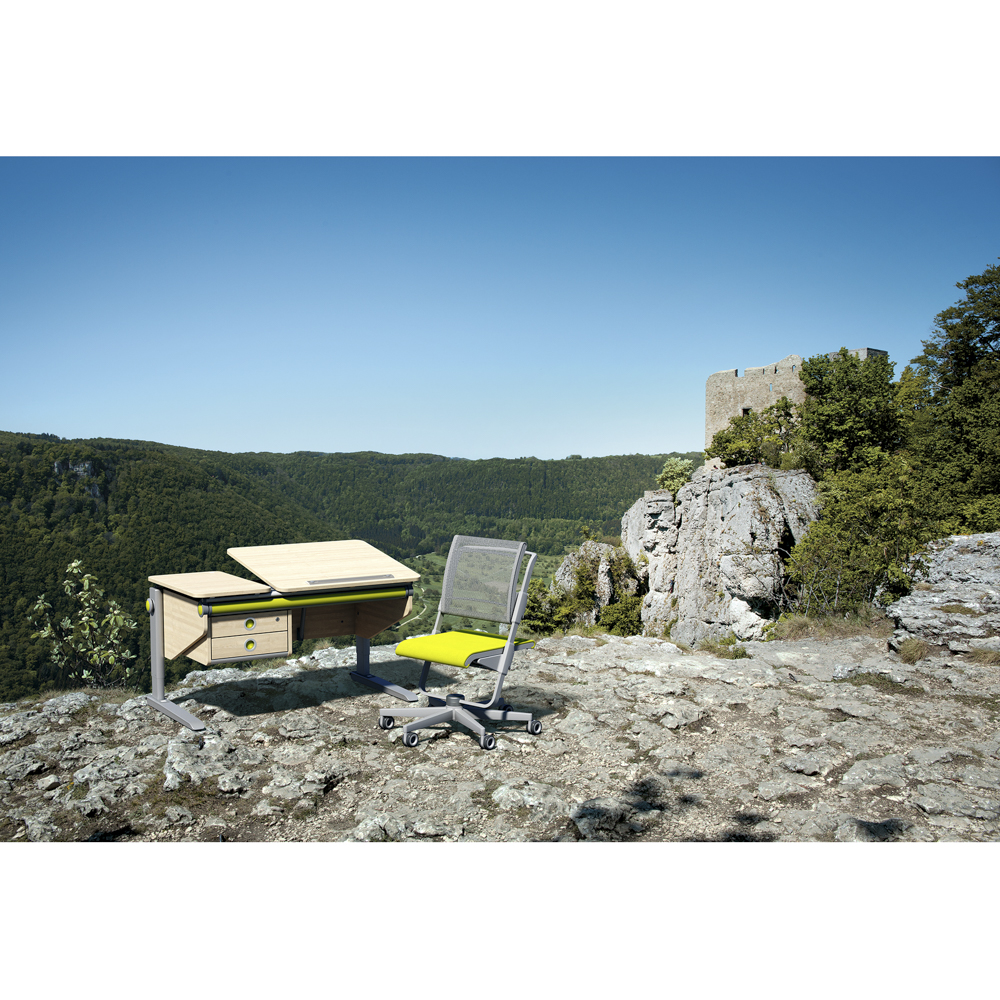 moll easy: Learning at your desk can be so simple and sophisticated.
The easy collection combines moll functions and moll quality. easy – it's as simple as it reads. No bells and whistles. Only relevant functions for concentrated learning and working. The collection includes the height-adjustable children's desks 'Bandit' and 'Sprinter'. The distinction: the desk edges. Bandit has rounded corners while Sprinter has rectangular ones. The trio becomes complete with the 'Lucky' swivel chair in three different colors. As with all moll collections, universal additions complete the product range – for the greatest possible individual furnishing options.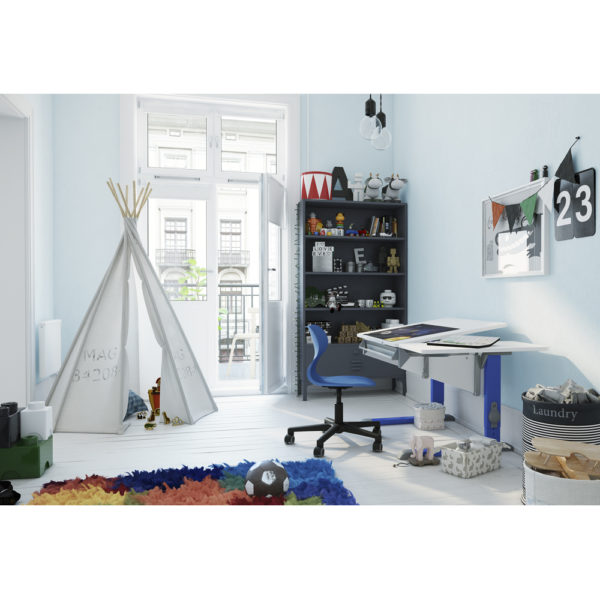 moll prime: The ultimate product portfolio for healthy learning and playing at your desk.
With prime, moll offers a comprehensive portfolio of children's desks, children's swivel chairs and mobile containers that is designed to be dynamic: as children grow, the accessible space grows along with them. Therefore, a smaller and manageable desk is ideal for the youngest. For the older ones, the desk can simply be extended and supplemented. That is why moll study spaces are always conceived in a holistic way. Desks like the moll Champion, Winner or Joker and chairs like the moll Maximo or Scooter create the basis for ergonomic, healthy learning – from the first ABCs all the way to graduation.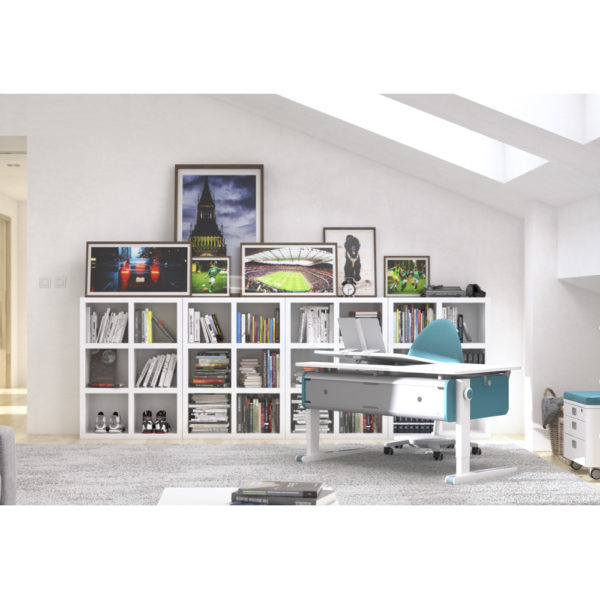 moll unique: Truly intuitive and exceptionally chic.
With outstanding quality of materials and workmanship, the greatest possible variability, optimal ergonomics and maximum comfort, moll unique creates real islands of well-being for generations. In doing so, desk and chair form exclusive and elegant design islands in your home, which set new accents in the room. The German Design Award 2018 and the Red Dot Award for Product Design 2016 are not the least proof that this is successful. Much more important than these awards, however, is your feeling. And that's absolutely unique on every desk and chair, whether it's T7, T5, S9 or S9: experience it for yourself.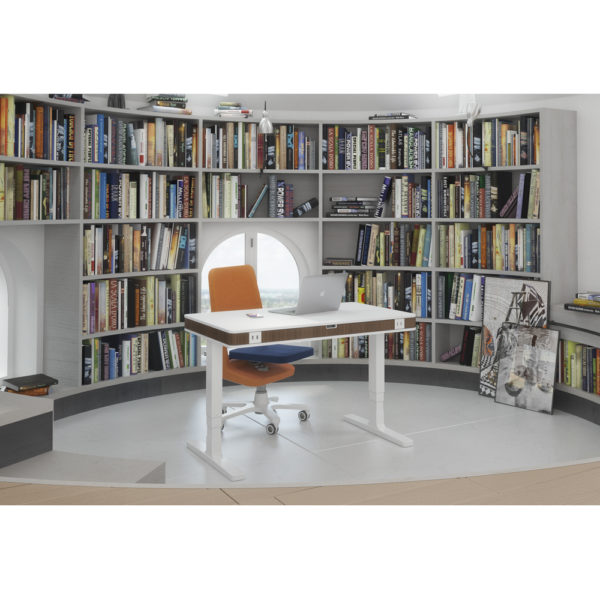 moll 360°: Create complete organization with compact space wonders
Binders, products, office supplies, paperwork: it's not always easy to store everything in a simple and uncomplicated way. Often, archiving takes away valuable working space and thus living space as well. As a specialist for ergonomic workspace optimization, moll took up this topic at an early stage: As early as 1960, moll presented a completely new product with the rotating filing solution, which today has become the archiving standard worldwide – even in the private environment. The result is a well engineered portfolio of shelving systems: moll 360°. Multifile and Depotfile offer up to 6 levels, each with a load capacity of 75 kg, on a diameter of just 80 cm. You see: moll also offers real heavyweights when it comes to filing systems.